International Aquarium Congress 2012 gives a note: The signing of the agreement will take place at approximately 13h00 today (10 September 2018) in Ballroom East at the Cape Town International Convention Centre.
On 12 September 2018 Two Oceans Aquarium Managing Director Dr Patrick Garratt and Mr Robert Calcagno, Chief Executive Officer of the Institut Océanographique in Monaco, will sign a formal partnership agreement between the two organizations. The five-year agreement will see the two facilities working closely together in the fields of research, animal husbandry, conservation, education and awareness, communication and personnel training.
The partnership is a means to further ties between the Principality of Monaco and South Africa. Said Calcagno: "Created to appreciate, understand and protect the oceans, the Oceanographic Institute founded by Prince Albert Ist of Monaco began contributing in 1910 to the development of modern oceanography. Today, the Institute is a dynamic, determined player, actively engaged in international cooperation. This is why we are particularly pleased to start this partnership with the Two Oceans Aquarium. The goal of the agreement is to consolidate the relationship between our institutions in the fields of oceanography and marine biodiversity, based on specific projects and issues linked to each establishment, such as sharks, turtles, sunfish, corals, marine bio-discovery and ocean acidification."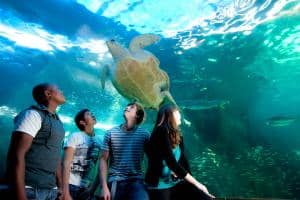 The Oceanographic Institute, Foundation Albert I, Prince of Monaco, is a state approved Foundation created in 1906 by Prince Albert I. Comprising two facilities, the Oceanographic Museum of Monaco and the House of the Oceans in Paris, the Oceanographic Institute supports sustainable ocean management, bringing together biodiversity preservation and economic activities that can coexist with healthy marine ecosystems. It also acts as mediator between the scientific community, marine industry leaders, political decision-makers and the public.
The Institut Océanographique of Monaco includes an aquarium displaying over 6 000 specimens of fish and other marine animals from the Mediterranean and tropical seas in their natural settings. It also includes the world-famous oceanographic museum and library containing a unique collection of specimens, exhibits and books from all over the world.
The Two Oceans Aquarium on the V&A Waterfront Cape Town is ideally positioned to showcase the incredible diversity of marine life found in the Indian and Atlantic Oceans. Since opening in 1995, the Aquarium has established itself as a key player in raising environmental awareness through its high-quality exhibits and its conservation, research and education programmes. The Aquarium is one of the top tourist attractions in Cape Town and over 3 000 marine creatures, including sharks, fishes, turtles and penguins can be seen in this spectacular underwater nature reserve.
According to Dr Garratt, "The Two Oceans Aquarium is highly regarded by its peers and partnerships such as this further reinforce our standing in the international arena. We welcome this partnership and are excited about the opportunities it presents in terms of the exchange of information, ideas and knowledge. It also provides our staff with opportunities for learning and gaining experience in another facility".