How do you feel when you think about the environment? This was the question with which Dr Elin Kelsey opened her keynote address at the 8th International Aquarium Congress taking place in Cape Town until 14 September.
So, have you given the question some thought?
"People have very strong emotions around what's happening in the planet," says the internationally renowned researcher, consultant and author.
Many people feel a sense of despair, dread, worry, concern and hopelessness when it comes to the state of the environment, however Dr Kelsey's overall message was one of hope and resilience.
She believes that scaring people into action does not offer long-term solutions and instead feels that media, policymakers and especially aquariums need to "shift the story beyond doom and gloom".
According to Dr Kelsey, who has been involved in environmental education for around 30 years, there are an inordinate amount of stories showing resilience and hope in conservation, which could include among others marine protection areas, rebuilding global fisheries, local and community marine management, increases in forests and even human practices. Yet, the public is often scared into taking action, something that could lead to environmental depression and apathy.
"It is very hard to find hopeful stories because the narrative of doom and gloom is very prevalent," says Dr Kelsey.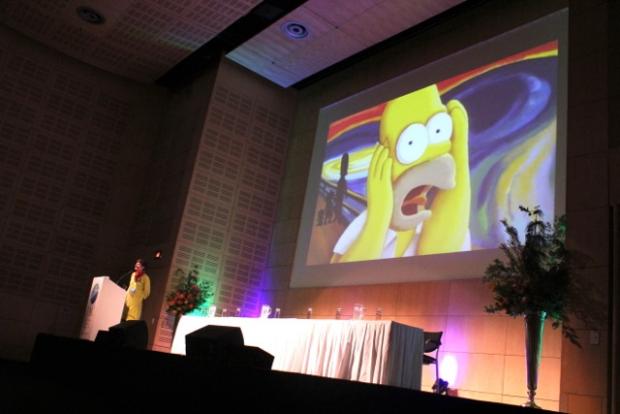 The visiting scholar at James Cook University, Australia, believes more sophisticated and empathetic messages need to be passed along to the public and speak about the advances being made in the area of conservation.
According to Dr Kelsey, directly involving members of the public in marine conservation is one of the ways to show them that they can make a difference. Involving them in collecting data, which can have a direct impact on helping scientists understand ecosystems and behavioral patterns, for example, empowers communities and brings about change and encourages hope.
Aquariums have a significant leadership role to play in connecting visitors to the world of marine conservation. She believes they have a unique ability to stimulate emotional connections between people, animals and environments.
"Aquariums have the tremendous capacity to think about doom and gloom issues and how we continue to sound the alarm," says Dr Kelsey. "One of the most important things for inspiring hope is the ability to have conversation."
She feels visitors to aquariums expect information to be immediate and meaningful and so should make information real and accessible, which will allow visitors to connect and directly relate to the information.
One of the ways to do this is making visitors aware of the way their choices are directly tied to larger issues.
"I really believe that we have hope blindness. When we talk about conservation, we focus on the problems. My wish… I want to create global torrents of hope," Dr Kelsey.
A few causes for hope
Baby fish learn to cope on high CO2 world (if parents were raised in acidic environment)
Humpback recovery – from 1 500 to 20 000 in 40 years
Ecosystem-scale marine protected areas
No-take marine areas: More fish, bigger fish. Fast.
Rebuilding global fisheries: local community management – diversity of fish doubles
Fisheries mitigation. Albatrosses survive.
Costa Rica: double the forests since 1983
Dr Kelsey is the author of a hopeful children's book on the environment, Not Your Typical Book About the Environment (Owl kids, 2010), which won the 2011 Green Earth Book Award, and is working with Stanford University, US, on an international study to identify key areas for environmental education research by 2020.
Join the conversation
Please follow the 8th IAC on Twitter here – whether you'll be attending or not. We'll be using the hashtag #8thIAC on Twitter for IAC coverage, so follow that too. You can also "like" our page on Facebook and please do join our group on LinkedIn here for regular IAC updates, pictures and news.
Author: Marin Gorrie