Photos: Great white shark experience a great success
8th International Aquarium Congress (IAC) delegates were treated to a proudly South African field trip on Friday 14 September. We were taken to Gansbaai, about 180km from Cape Town, for great white shark cage diving and whale watching with Marine Dynamics, a cage-diving operator with a strong conservation and education ethos.
Though it was an early morning call, 8th IAC delegates were as keen as they come to see a great white up close (very close). A little bit of cold weather and wind would not deter the group from boarding the powerful Slashfin to take to choppy waters at Gansbaai.
Life-jackets and orange coats meant we were well protected from the elements.
Marine Dynamics engages in broad shark conservation and research activities and they have a large group of knowledgeable and friendly marine biologists who share their facts with guests.
While kitting scores of strangers out in wetsuits might sound like a logistical nightmare, the process went down without a hitch. Even getting changed on board was a (strong) breeze!
Marine Dynamics' motto – "Discover and protect" – is in line with the 8th IAC's own manifesto, as well as the outcomes of this wonderful congress, and they too believe that collaboration is the key to conservation success.
Groups of seven guests at a time lowered themselves into Marine Dynamics' 4m-long cages, where light chumming, a penguin decoy made of cardboard and some bait were used to lure great white sharks to the boat.
We were not disappointed. Large, beautiful – no, stunning – sharks approached Slashfin and the 8th IAC delegates, both in and out of the water, could not believe their eyes. A few loud expletives were good indications of the level of excitement and amazement felt by all who were privileged enough to share this experience.
Will 8th IAC delegates return home impressed? We certainly think so. Thank you to Marine Dynamics for the excellent service, the warm soup, and the warm hospitality. Proudly South African! Proudly 8th IAC.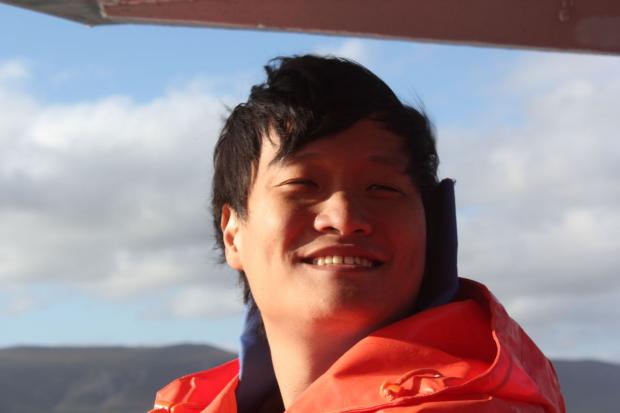 Sharing experiences
These stunning images of a great white breaching close to the boat were kindly shared with us by Cédric Guignard of Ocean Projects.
Author: Ingrid Sinclair

3

comments
Comments
Leave a comment